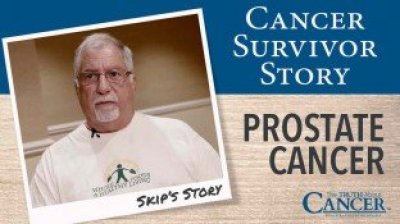 Skip Stein's cancer survivor story began on April 14, 2010, when he went to the doctor for a biopsy. Skip actually didn't learn that he had prostate cancer until April 24th because his doctor forgot to call and tell him that the biopsy came back positive for prostate cancer.
Shortly after he received the terrible news, Skip's doctor wanted to rush him into surgery, but they weren't able to perform surgery at that time because Skip was overweight. Skip's doctor suggested that he have pellets placed directly into his prostate, along with radiation treatment. Being conscious of what radiation does, he asked his doctor, "doesn't radiation cause cancer?" to which the doctor had no reply. They told him that if he did treatment he'd only live five years. If he didn't do anything and do "watch and wait," his prognosis would drop to three years.
Having seen his father pass away from his cancer treatment by going through the conventional methods, Skip decided that he would take things into his own hands and change his lifestyle. Searching for a prostate cancer cure, Skip and his wife Nancy, started a strictly plant based lifestyle eliminating meat, fish, dairy, and eggs. Skip started twice weekly yoga lessons at the local New World Wellness Center in Kissimmee Florida. He also studied and became a Reiki Level II practitioner. When he says he 'changed his lifestyle' he really means it!
His wife Nancy became certified in plant-based nutrition, and is now a well-known chef, known simply as Chef Nancy. Skip began beating cancer with a plant based diet and lifestyle changes. They noticed a dramatic change in their appearance with the plant based diet before and after. They both lost lots of weight without 'dieting' and have kept it off and feel better than they have in 40 years. Nancy, who suffered from fibromyalgia and a serious arterial blockage also reversed her problems. Along with the diet, Skip and his wife began exercising regularly and now go on regular hiking road trips to many of the USA National Parks.
Skip's prostate cancer survivor story is just another example of how you can beat cancer with a plant based lifestyle. Be sure and give him a like and share this video with your friends and family.
Filmed at The Truth About Cancer Conference in Orlando Florida, 2017
Read more about my Approach in My New Book